With elegant and luxurious design style, designer Quách Thái Công is also famous for his perfectionist and perfection view in every detail. The products that Thái Công curated all converge many factors both in quality and aesthetic superiority from master craft-men hands. Décor Walther is one of the few brands achieved 300% quality standards set by designer Quách Thái Công.
Décor Walther is a leading brand of bathroom products. In 1973, Harald Walther founded Décor Walther in Frankfurt am Main – Germany on a small scale. So far, after more than 45 years of operation, Décor Walther has been a well-known brand, representing the line of bathroom products such as lamps, mirrors and accessories, which are well known beyond the German border.
Décor Walther products bring a simple but sophisticated aesthetic language with strong and modern shapes. The products does not painted with the colorful 'suits' outward, does not follow the trend and are not picky in detail; can say that, Décor Walther brings a timeless beauty into the design. So Walther's sophisticated artworks are not obsolete, easy to coordinate in many different interior styles. Variety of colors is one of the brand's advantages, Amber orange, Violet or Sapphire blue on transparent crystal material evokes a pleasant feeling for users. Décor Walther products are always developed based on the ceaseless innovation and a leading team of experts in materials, mainly metal, crystal, porcelain or wood. The product is manufactured entirely by hand with high maturity. For example: brass is welded, polished, galvanized and assembled by hand to create each product. The proof of the outstanding quality of Décor Walther is the flawless products that customers around the world are using.
In the space designed by Thái Công, the most important room is the bedroom, showing the culture and lifestyle of the owner. This is also the most private place for homeowners to spend every day and to take care of themselves, relax and recharge their energy for a new day. The bathroom, too, is a completely private space to cool down the body, spirit and soul.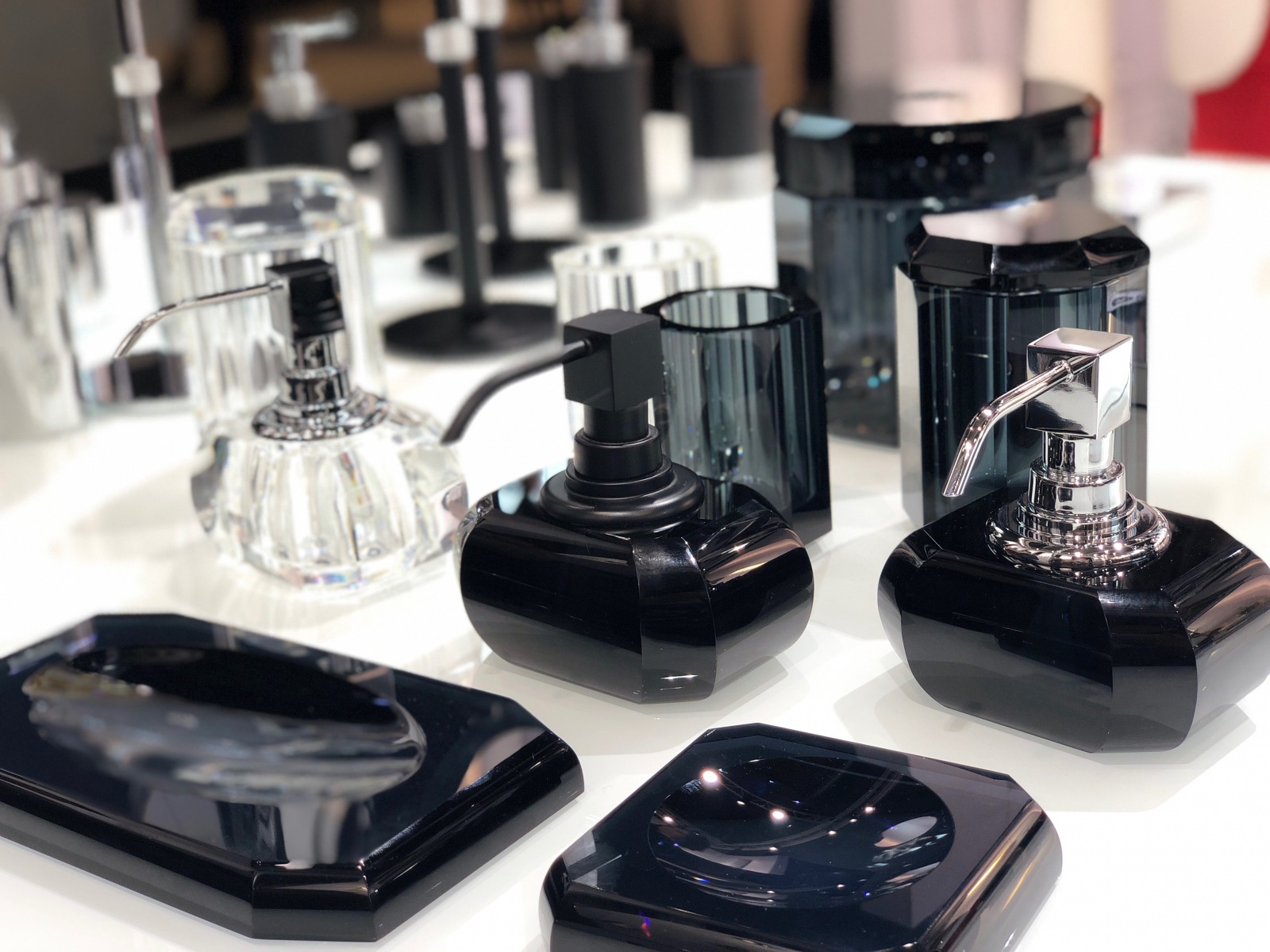 Inside the bathroom designed by Thái Công, or in the showroom THÁI CÔNG Interior Design, Décor Walther products are always carefully arranged. Most bathroom accessories from Décor Walther that designer Quách Thái Công selected from crystal materials and high-grade metal with exquisite colors, creative designs and sophisticated details. This is truly a perfect product line of 300% of designer Quách Thái Công.