THÁI CÔNG is not only known as the interior design company which offers luxurious furniture but also known as the restaurant where serves Gourmet Vietnamese Fusion dishes.
The restaurant was named THÁI CÔNG Gourmet Vietnamese Fusion Cuisine which aims to bring Vietnamese cuisine to the next level. According to the interior designer Quách Thái Công, a grande cuisine needs to be served in the right atmosphere. That is the reason why Thái Công built a restaurant which has all the Western standards. The restaurant is decorated elegantly and all the furniture is placed with the intention from Thái Công himself. He carefully furnishes everything from the furniture to lighting set-up. Therefore, the whole place's design does not miss the concept of being luxurious yet beautiful and elegant.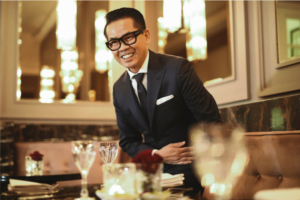 The interior designer Quách Thái Công states that: "You can tell about a person's cultural and lifestyle by food. Thus, only high – standard culture and lifestyle can create a perfect meal. You have to count every factor such as table manners, dress code, the dishes, the atmosphere, etc…those elements combine a civil and chic manner."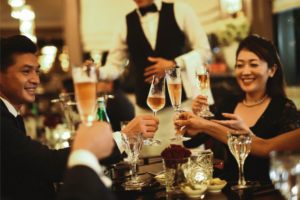 THÁI CÔNG Restaurant focuses on the quality of the dishes as well as the origin of the ingredients. All the dishes are the combination of Vietnamese traditional spices and international cooking style which makes the fusion fresher and tastier. Still, the dishes keep the authentic Vietnamese taste as the key.
We serve New Zealand Grilled Venison Tenderloin with zanthoxylum rhetsa seeds; Grilled French Duck breast with Thai fish sauce; Pan fried Foie gras with fish sauce; Miso soup with Tiger praw, heart of coconut tree, black forest mushroom; Black Grouper soup, stock Black Grouper head fish, zucchini, etc…the dishes are presented with dedication and elegancy in order to make them appeal and delicious.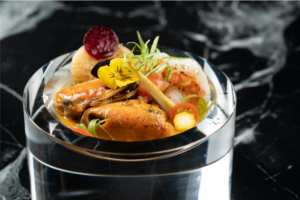 Additionally, the porcelain envoy of the restaurant is from the German brand Sieger by Fürstenberg. They are famous for being light, transparent, not easy to break and having 18k gold – plated. All the products are made by skilled craftsmanship. Besides, the customers can also drink Champagne or Sake in the crystal glasses of Baccarat, the famous French brand. The key factors to select all the tableware are aesthetics, high quality, rich history and famous.  In addition, Thái Công thinks highly of being chic and living with style.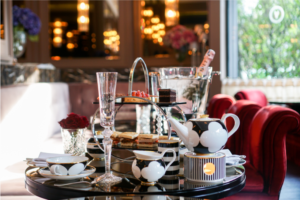 Initially, the restaurant, which has only 35 seats, just opens for fine dining on Saturday's nights. Since, Thái Công wants his customers to have their own privacy and to receive excellent services, THÁI CÔNG Restaurant does not take table reservation for a group has more than 6 people and the customers must be older than 16 years old.