Livein Magazine, New York
| 14 Th10 2021
Senses of Romantique: Indochine Villa
Celebrity Interior Designer Quách Thái Công's new project – Indochine Villa – turns into reality a luxurious vision of class, style, and harmony between Eastern traditions and Western architectural canons.
"Design is thinking made visual"
– Saul Bass
A house, if used only for living, boasting, or showing off, is just a house – no more and no less. However, with Indochine, that house is no longer constrained within the limits of the usual architectural framework of a house, but rather a true work of art.
"Where love begins" in Indochine comes from the completed rough-in stage of construction and the finishing off stage, whereby the designer puts the "coolness" into the living space according to the female owner's ideas. That "coolness" does not abide by the concept of safety, but necessitates a breaking of the rules and exceeding the limits of art's creativity. Looking at designer Thai Cong's work since he returned to Vietnam, we can see that this is a difficult problem to solve.
It can be said of Indochine that: "A project when completed, can be valued in the market, but become invaluable in terms of class and lifestyle". Thus, in order for the designers in Thai Cong's team to work together with the employer and find an optimal solution for the project, only a true, strong love, along with belief and passion are sufficient for fulfilling and bringing about the perfect cooperation.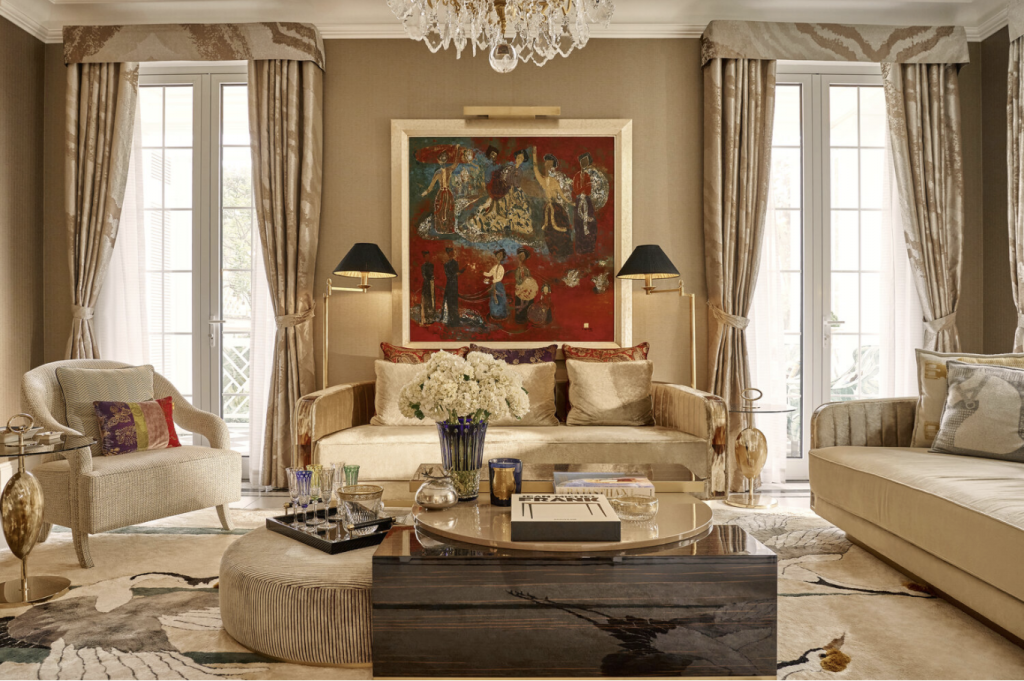 The project is a grand villa, located in a prime landscape that has a classic Vietnamese style – namely countryside scenery, river and waterfront. Femininity should be the first priority – the Indochine theme has basically defined a nostalgic format, a way of life in which European features exist and seem to be more prominent than the indigenous nature. But how is that format converted into a new, unique and impressive style without losing the vibe of historical Indochine? Thai Cong's excellent answer breaks the concept that seems to be an unbending barrier, with elements of architecture, decoration, visuals and installation arts.
A project that is large enough for the designer to "fly" with his ideas, big enough to easily create a "trap" if the designer does not know how to use the space in a proper manner, can easily create a chaotic mess. The re-arrangement of the detailed living space for the project is Thai Cong's first daring step.
Understanding the psychology, personality, preferences, and needs of customers is Thai Cong's talent, and is used in the design details. Based on the specific example of Indochine, that talent is used by Thai Cong as a work of art when creating the right level of "coolness" that is associated with the personality and desires of the owner.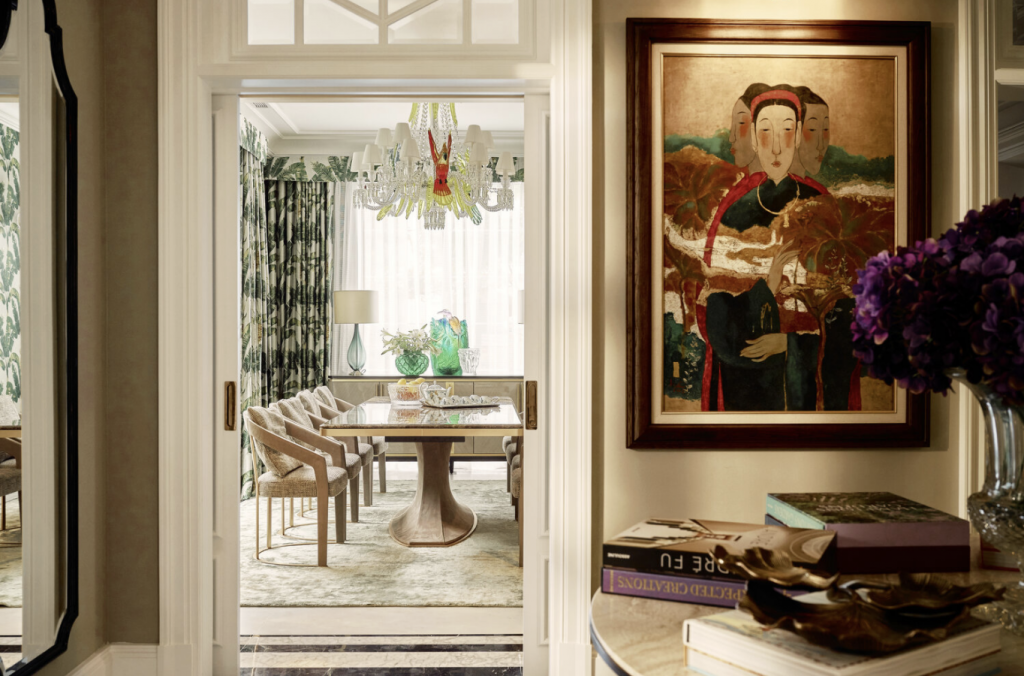 Thai Cong's ingenuity in decorating the space in Indochine is that the boundary of the private–common space has been blurred. If necessary, there could be a living room, dining room, garden, etc. but with just a few variations and clever arrangements of interior decoration details, everything is connected into one harmonious space. From architecture and layout to decoration and colors, everything is interconnected in a harmonious and smooth manner like the legato of a talented musician playing Beethoven's Symphony No. 05.
In terms of visual effects, the color expression of the building is truly the ultimate artistic harmony, with this detail being most visible in the primary bedroom of the house. In places, the simplified color range displays the stark contrast between black and white, while the bathroom is a particular highlight with decorative patterns and colors imitating the fanciful beauty of marble veins, creating a sense of magnificence, purity, and relaxation in a private space. In general, throughout the project, Thai Cong uses colors in a special and distinctive way that is neither eccentric nor bizarre, and which has charisma but also harmony, closeness, and affection, creating a familiar, well-known feeling.
The "evocative" element of Indochine's imprint is clearly shown – a large porcelain vase with blue and white enamel, decorated with old Asian characteristics that were usually found in noble families, and ancient porcelain dating back to the Qing Dynasty, made by the top pottery kilns of Canh Duc Tran. Another "evocative" angle is the lacquer paintings, a beautiful Vietnamese tradition.
The "evocation" of Asian features is hidden in the European nature of the work – thanks to Thai Cong's variations in Indochine, the Asian – European formats appear to be hidden. The only prominent thing is the luxurious, exquisite, romantic, sophisticated, and splendid style that is called Thai Cong along with the gentle, loving, smooth, and shy style of an Indochina girl. A girl educated and raised in the perfect family tradition, with all four virtues of housekeeping – skills, beauty, appropriate speech, and moral conduct – so that anyone who meets her will be enchanted and fall in love.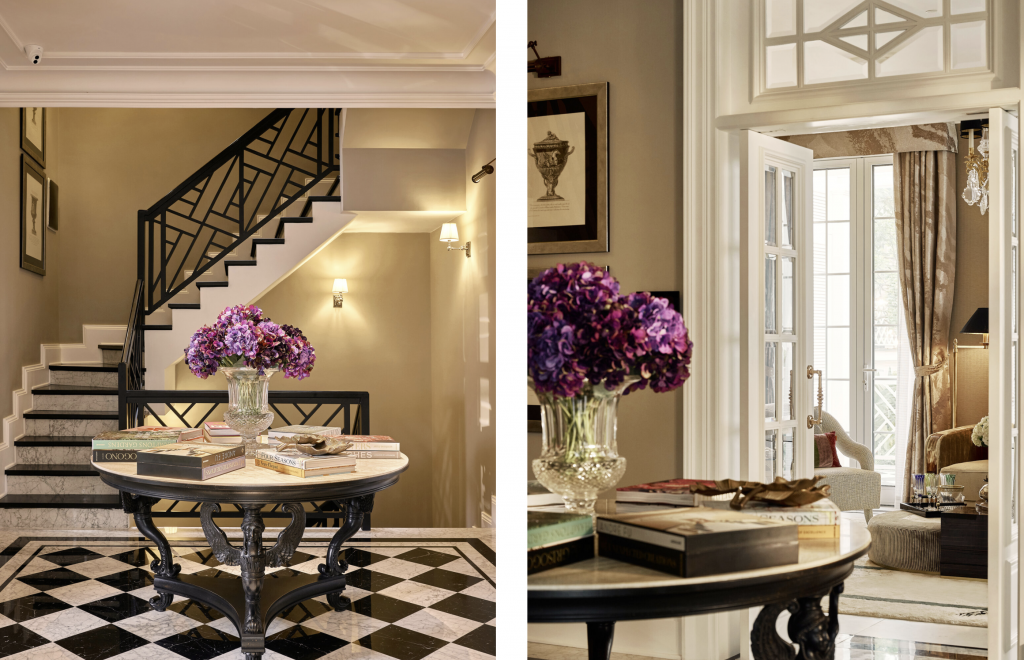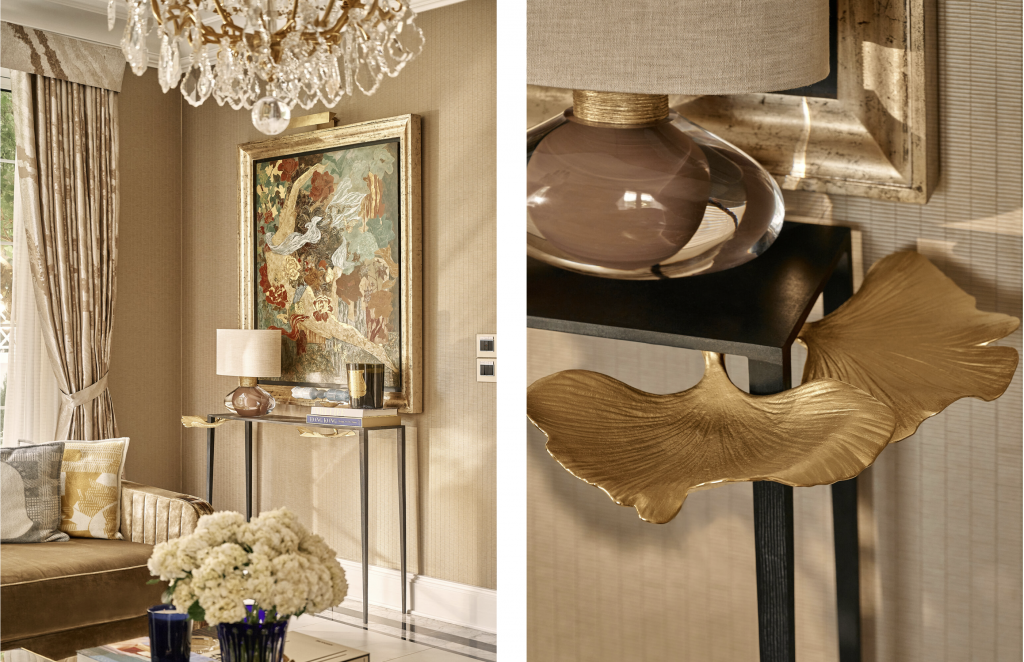 "Using the present to reminisce about the past, bringing European features together with an Asian essence; being unconventional, daring and distinctive, shaped with elegance and nobility but full of passion and familiarity: these words best describe architectural work with a nostalgic name – Indochine. And I call it 'where love begins.'"
–  Quách Thái Công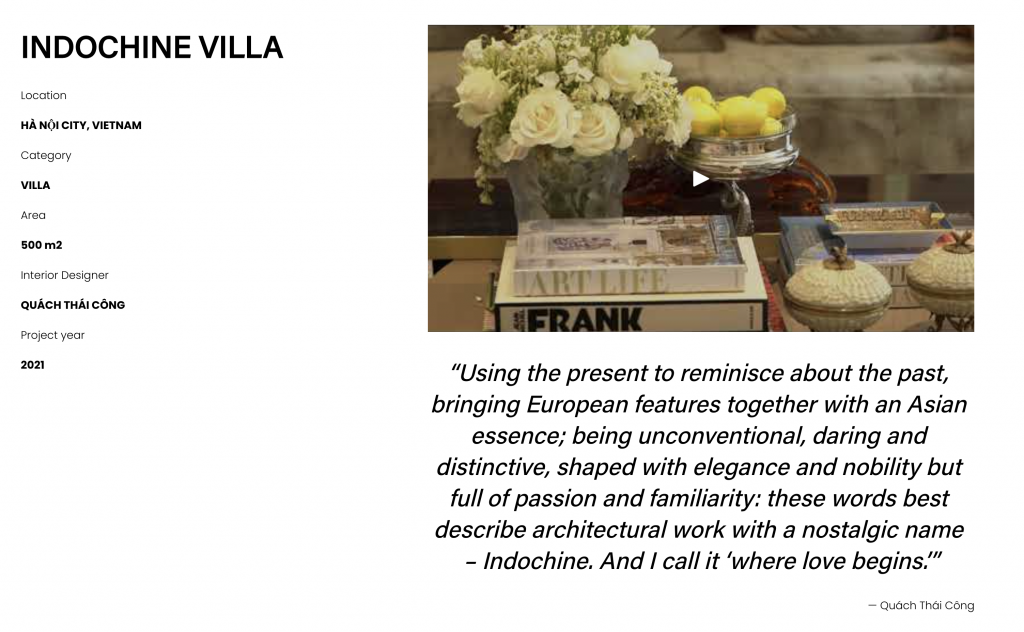 Source: Livein Magazine