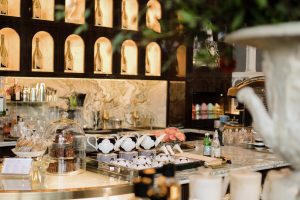 The Cafe Lifestyle trend and the spread of renowned brands
Cafe Lifestyle is currently a new trend in the Food & Beverage industry, where esteemed brands aim to create exclusive cafe spaces that connect customers with the brand. This represents a distinct characteristic of the modern era, where interior design, lifestyle, and aesthetics converge. Brands like Louis Vuitton, Chanel, Dior, and Gucci have each introduced cafes that embody their unique styles and individual personalities.
Learn more about Interior Designer Quách Thái Công.
Learn more about Thái Công Flagship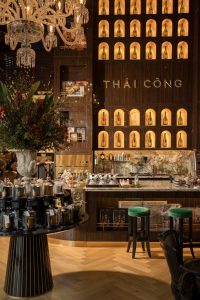 Thái Công Cafe & Champagne Lounge – The Sublime Essence of Personal Style
The Thái Công brand also follows this trend by introducing Thái Công Café, a place to savor delicious beverages and food while experiencing a space of opulent and refined interior design. Here, customers will sense the harmonious blend of modern and classical aesthetics, crafted skillfully by the interior designer Quách Thái Công."
Exquisite in Every Detail – Visual Accents
Not only distinguished by architectural style but also focused on visual accents. Elements such as lighting, layout, and decorative colors are meticulously arranged, creating a symphony – a harmonious resonance of melodies. Beverages and pastries are also presented like artistic pieces on Fürstenberg plates, Christofle knives and forks, and Saint Louis glassware
Cafe Lifestyle and the Fusion of Art and Living Style
Thái Công Cafe & Champagne Lounge is not merely a coffee destination but also a place where customers experience a unique blend of art and lifestyle. With the sophistication and elegance of the Thái Công brand, the cafe introduces a new rendezvous for refined customers who appreciate interior design and seek to immerse themselves in a luxurious space
Savoring Coffee with Style
The beverages and pastries at Thái Công Cafe are meticulously crafted from premium ingredients, undergoing a transparent and standardized process. The selected products by the brand are of high quality and visually captivating, evoking passion.
Thái Công Cafe & Champagne Lounge has become a familiar meeting place for friends, customers, and business partners. Here, people have the opportunity to gather, chat, and share harmonious emotions in life. It's also a hub for art, music, and culture enthusiasts, creating a unique space for them to freely express their personalities and lifestyles.
Amidst the bustling Saigon, what could be more wonderful than a cup of coffee, a plate of fragrant pastries, looking out at the city center view? All pressures and worries momentarily set aside, only to relish in a moment where life feels worth living.